How the International Press Reported on Safe Harbor and Schrems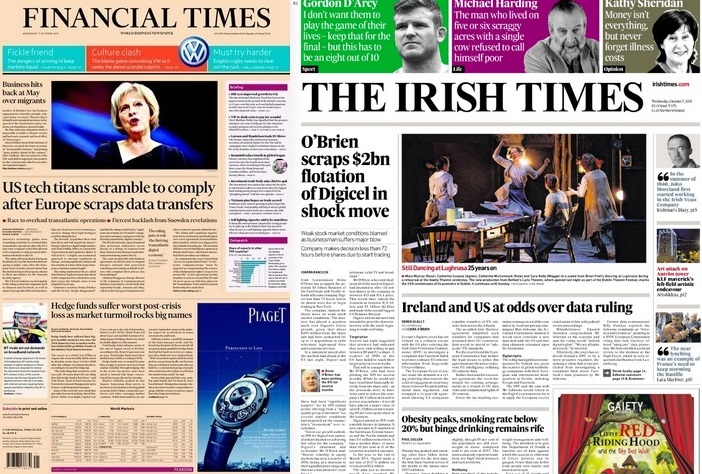 It's been a hugely significant week for civil liberties in Europe. Following a judgement [PDF, 43kb] from the European Union's Court of Justice, the Safe Harbour regime, which allowed the transfer of data from the EU to the United States, has been struck down.
The court has, in effect, ruled that "indiscriminate surveillance is unacceptable", according to TJ McIntyre, chair of Digital Rights Ireland. It follows a case taken by Austrian privacy activist Max Schrems. DRI was a party in the case and made representations to the court.
Media coverage
The story was covered extensively across national and international media. Highlights include:
Commentary
The Financial Times said that the Irish Data Protection will face challenges in implementing the court's judgement and overseeing digital privacy law, and they asked DRI's TJ McIntryre whether it could be done:
"It's certainly going to mean a lot more work," said TJ McIntyre, a law lecturer at University College Dublin and chairman of Digital Rights Ireland, which was an amicus party in the ECJ hearing. He said the ruling meant the IDPC would have to take a more active role in regulating privacy, and to pursue legal cases where those were justified.
Maria Helen Murphy, a lecturer in law at Maynooth University wrote in TheJournal.ie and Yahoo News:
In spite of the apparent shock in some quarters, this decision did not come without warning. In fact, this decision arrives subsequent to a series of strongly pro-privacy decisions from the CJEU.

The most notable decision in this collection – prior to yesterday's Safe Harbour decision – is another case with a strong Irish connection. I am, of course, referring to the decision in Digital Rights Ireland and Seitlinger and Others, which was decided by the CJEU in April 2014.

Like the Schrems case, the Digital Rights Ireland case saw the CJEU invalidate a piece of EU law on the grounds of data protection and privacy.

In the Digital Rights Ireland case, it was the Data Retention Directive that was deemed invalid by the CJEU.

The Digital Rights Ireland decision was the first major European ruling on surveillance following the Snowden revelations.

In his newly opened Twitter account, Edward Snowden thanked Europe for the decisions in both the Schrems and Digital Rights Ireland cases.
For more information and background, read our blog post on the landmark ruling.